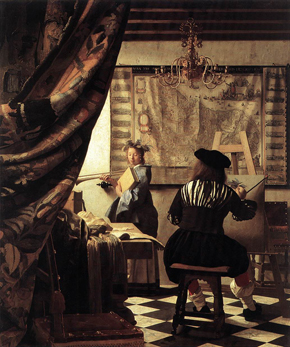 Johannes Vermeer (1632 - 1675),
《繪畫的藝術》
油彩布本
120cm(H) x 100cm(W), c.1666

Johannes Vermeer (1632 - 1675),
The Art of Painting (De Schilderkunst),
oil on canvas,
120cm(H) x 100cm(W), c.1666


Vermeer's aim in The Art pf Painting was to emphasize the importance of the art of painting. Vermeer did not identify the artist. He portrayed him from behind, dressed in a fanciful costume from a past era. The importance of the artist's work is evident in the elegant room in which he paints, with its chandelier, lush curtain, and chairs. Most significantly, the artist is portraying an allegorical figure, Clio, the muse of History.

Clio is posed as described by Cesare Ripa, as a girl with a crown of laurel, symbolizing Fame, and holding a trumpet and a volume of Thucydides, symbolizing History. Vermeer's implication is that the artist's inspiration and source of fame should be the muse of History. This meaning accords with seventeenth-century art theorists who stressed that history painting – the representation of stories from the Bible and mythology as well as allegorical scenes – was the highest category of painting.